The Best Gifts For Beauty Lovers
Festive season is upon us again, and that means two things: first you have to crack an outfit for office parties or Christmas get-togethers, then you've got to buy a shedload of presents, for the ever-growing list of loved ones in your life.
We've got party season sorted, with our many takes on how to look cool/chic/sexy/nonchalant (delete as appropriate).
Gifting however, is a little trickier. Bestowing a new beauty discovery a loved one, is a surefire way of getting in their good books; but how do you get something that isn't too offensive? Something that says, I smelt this and thought of you, rather than, I think you stink.
To help you in this treacherous endeavour, we've picked some of our favourite beauty gifts from the Slapp Shop and beyond.
Top of our Christmas list is blendSMart's rotating makeup brush.
Exclusive to Slapp, this genius beauty gadget blends your makeup flawlessly to give you a makeup-artist's finish. All you have to do is press a button and sit back whilst it gets to work. Get the Travel Case for free this Christmas, with code: BLENDAWAY, (whilst stocks last.)
Give the gift of good lashes with the Ardell Faux Mink Lookbook. Ardell are fast becoming the authority in lashes, so you'll definitely impress the beauty lover in your life, with these. The Faux Mink Lookbook, comes with 8 of Ardell's bestsellers: from lavish to low-key.
Ardell,
Faux Mink Lookbook, £59.99,
Superdrug
This may be the cutest stocking filler ever! Although this isn't quite within the budget of most Secret Santa's, this is well worth shelling out for. In this mini box of lipstick trios you'll get 3 of Charlotte's most popular celebrity-inspired lipsticks. There's Kim K a pink beige nude, Secret Salma a matte plum rose and Carina's Love, a screen siren red.
For the beauty lover, that's big on no makeup makeup, there's no better gift than Noto Botanics. Noto is a purer than pure, organic beauty line from sunny California. They boast wholly natural ingredients, that not only do good for your skin, but give your face the most enchanting glisten. The Multi-Benne Tint, comes in a cute pot and is the ideal natural-looking blusher. The Hydra Highlight is a dream to use. Simply glide and glow, for highlight that is so bomb, you'll never go back to naughty nasties.
Noto Botanics,
Multi Benne Tint + Hydra Highlight, £23 + £18,
Slappshop
If you're a fan of KUWTK then you will have heard all about Jen Atkin, the super hairstylist.
If you don't like to Keep Up, you may still have heard of her cult hair brand Ouai, which has been making waves for it's texturising wave spray, and new addition: the dry shampoo foam. Luckily Ouai have put all of their bestsellers (approved by Gwen Stefani and Gigi,) into a little kit for you to try. This is one for the hair-obsessive in your life.
Urban Decay are undoubtedly the queen of palettes, you only need to mention the word: Naked, to get any beauty lover into a tizzy. With all the furore around Naked Heat, you can swoop in and steal the limelight with the Heavy Metals palette. This palette is packed full of shimmery shadows with seriously spectacular pigment. We tried it and we loved it. Check out
our Twitter
for swatches.
Urban Decay,
Heavy Metals Palette, £43,
Debenhams
We're huge fans of Lipstick Queen, for their genius, colour adaptive colours. With one swipe of their blue lipstick, your lips are transformed into a true cherry that's perfect for your skin tone (how very Slapp!). For Christmas, they've combined three of their favourite lip transformers, into one cute kit. Joining the blue to berry Hello Sailor, is the original Frog Prince which transforms your lips from green to pink; and Medieval, a sheer red that suits everyone. Suits us.
Lipstick Queen
, Bestsellers Trio, £45,
SpaceNK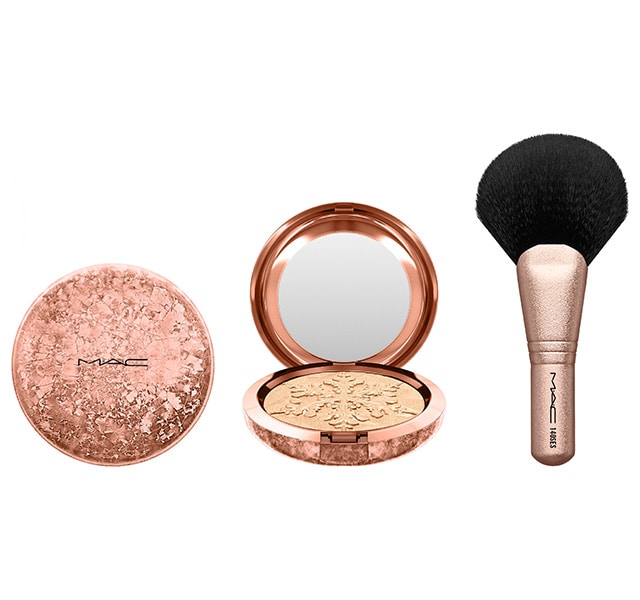 Last on our list, is a launch we've spent weeks swooning over on social media: the MAC Snowball Collection. This is a killer collection for lovers of: MAC, highlighters, or packaging that's too pretty to use. We've opted for the Snowball Skin Finish highlight: a one size fits all powder highlight, packed with shimmer, not glitter (v.important!) and comes with a cute rose gold brush. 
MAC,
Snow Ball Face Bag/Golden, £35,
MAC
 Lead photo: Makeupsessions